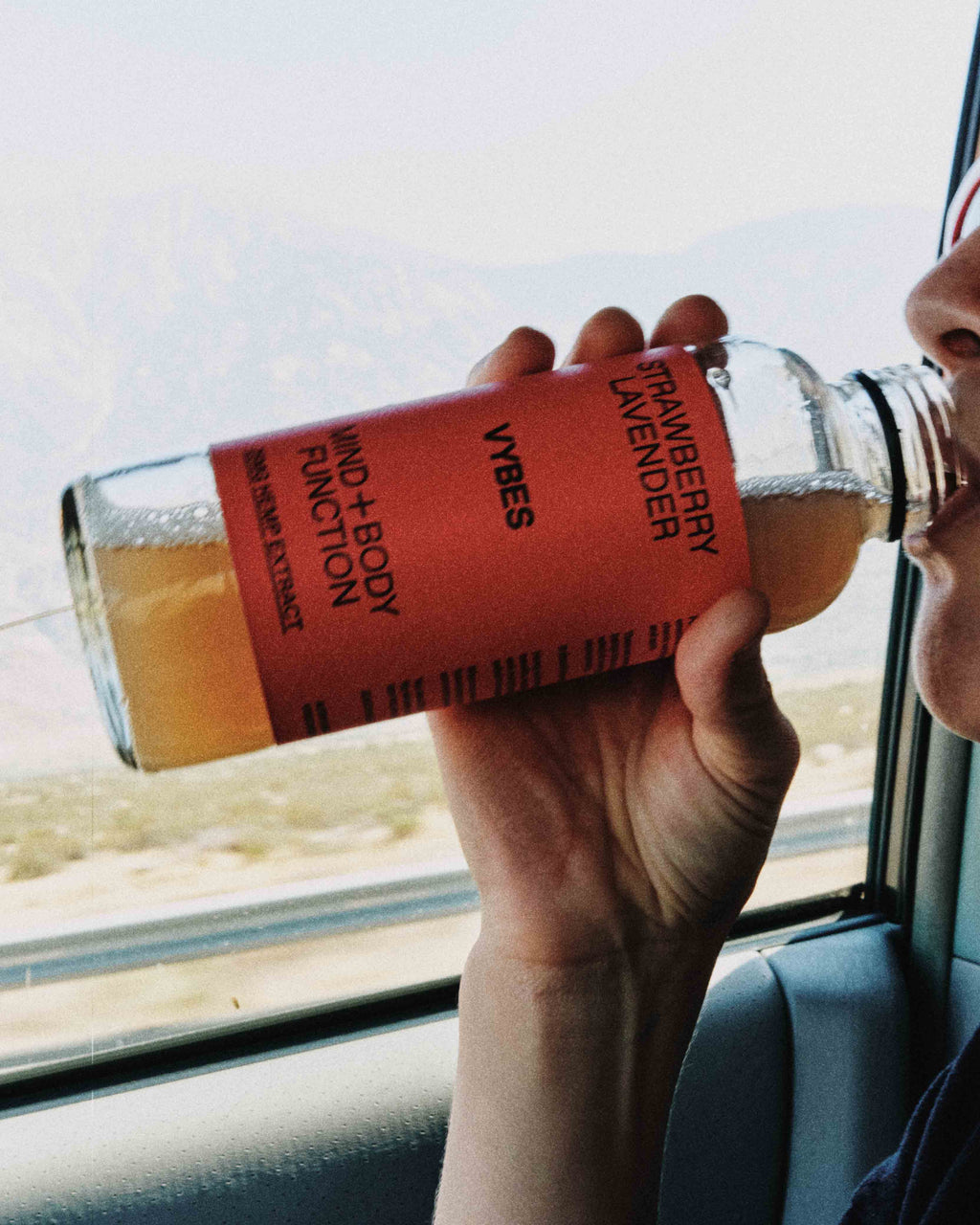 When To Drink CBD Beverages
VYBES CBD beverages are a light, refreshing drink that can be enjoyed any time of day or night. VYBES' current lineup of CBD beverage flavors includes Blackberry Hibiscus, Blueberry Mint, Ginger Lemonade, Honeycrisp Apple Basil, Peach Ginger, and Strawberry Lavender. Each of these delicious drinks is infused with 25 mg hemp CBD isolate. With a low number of calories (20-60 per serving, depending upon flavor) and grams of sugar (4-12 grams per serving), VYBES CBD beverages are perfectly suited for any time of day and for many different occasions.

In the Morning
You can drink a CBD beverage in the morning in lieu of coffee. If you're looking for a calm, refreshing drink without the jitteriness that caffeine can cause, turn to one of our refreshing CBD drinks. It will encourage you to feel more energized and relaxed but not sluggish, helping you to prepare for the day ahead. If you just can't start your day without a coffee, try our VYBES "Stress Sticks:" individually packaged 25mg of CBD isolate that quickly dissolves in any hot or cold beverage.

When Hitting That Mid-Afternoon Slump
In mid-afternoon, do you usually feel a slump during that time after lunch but before dinner? CBD beverages are perfect for this time of day as well. They help to give you just enough of a lift so that you can finish the workday in a calm, relaxed manner. VYBES is also a great alternative to a sugar packed snack that will ultimately cause you to crash later in the day.

Pre- or Post-Workout
Do you exercise either before or after work? Enjoying a CBD beverage pre-workout can help to energize you and replenish fluids so that you are ready to challenge your body. Drinking our CBD water post-workout helps replenish fluids lost during your workout and bring your mind and body back to balance before you move on to your next activity.

With an Evening Meal
Perhaps you'd like to enjoy a CBD drink while eating your evening meal. Some people want to relax at dinnertime and unwind. When faced with the choice of enjoying an alcoholic beverage or a CBD beverage with your dinner, making the decision to opt for a CBD drink is much healthier in the long run. As an added benefit, because CBD is not psychoactive, it won't leave you feeling tired, groggy or hungover. Experiment with your favorite VYBES flavors and mocktail recipes!

Before Bedtime
You can also choose to consume one of our CBD beverages right before bedtime. Drinking CBD prior to going to sleep can help you as you relax, unwind and meditate upon your day. It is ideal for that time of the evening when you are contemplating what you took on during the day and are planning what you will accomplish tomorrow. Imbibing CBD drinks at bedtime can make falling asleep easier and more peaceful, providing you with a more restful, sound sleep.

Summing It Up
VYBES offers a wide array of CBD drinks that are suitable for any time of day and for many different occasions. The fact that our CBD beverages are light and healthy gives you another reason to feel good about drinking them, no matter the time or activity.